1 tube, 2 hours, 3 steps protocol
Input: 50 pg – 50 ng
Reduce potential bias - few PCR amplification cycles needed
High sensitivity ChIP-seq - low PCR duplication rate
Great multiplexing flexibility with 12 barcodes (8 nt) included
Validated with the IP-Star® Automated Platform
How it works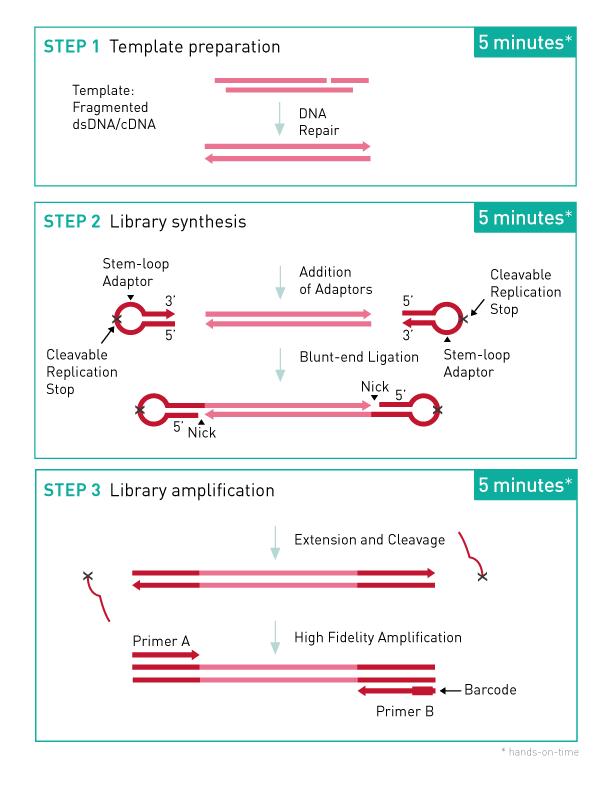 Microplex workflow - protocol with single indexes
An input of 50 pg to 50 ng of fragmented dsDNA is converted into sequencing-ready libraries for Illumina® NGS platforms using a fast and simple 3-step protocol
Read more about MicroPlex workflow

Step 1. Template Preparation provides efficient repair of the fragmented double-stranded DNA input.

In this step, the DNA is repaired and yields molecules with blunt ends.

Step 2. Library Synthesis. enables ligation of MicroPlex patented stem- loop adapters.

In the next step, stem-loop adaptors with blocked 5' ends are ligated with high efficiency to the 5' end of the genomic DNA, leaving a nick at the 3' end. The adaptors cannot ligate to each other and do not have single- strand tails, both of which contribute to non-specific background found with many other NGS preparations.

Step 3. Library Amplification enables extension of the template, cleavage of the stem-loop adaptors, and amplification of the library. Illumina- compatible indexes are also introduced using a high-fidelity, highly- processive, low-bias DNA polymerase.

In the final step, the 3' ends of the genomic DNA are extended to complete library synthesis and Illumina-compatible indexes are added through a high-fidelity amplification. Any remaining free adaptors are destroyed. Hands-on time and the risk of contamination are minimized by using a single tube and eliminating intermediate purifications.

Obtained libraries are purified, quantified and sized. The libraries pooling can be performed as well before sequencing.
Reliable detection of enrichments in ChIP-seq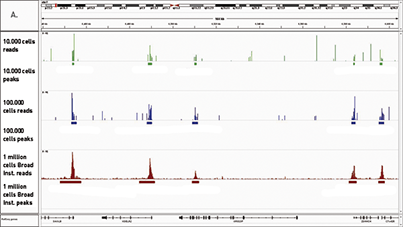 Figure A. ChIP has been peformed with H3K4me3 antibody, amplification of 17 pg of DNA ChIP'd from 10.000 cells and amplification of 35 pg of DNA ChIP'd from 100.000 cells (control experiment). The IP'd DNA was amplified and transformed into a sequencing-ready preparation for the Illumina plateform with the MicroPlex Library Preparation kit. The library was then analysed on an Illumina® Genome Analyzer. Cluster generation and sequencing were performed according to the manufacturer's instructions.

Figure B. We observed a perfect match between the top 40% of True MicroChIP peaks and the reference dataset. Based on the NIH Encode project criterion, ChIP-seq results are considered reproducible between an original and reproduced dataset if the top 40% of peaks have at least an 80% overlap ratio with the compared dataset.