ChIPmentation for high-quality and fast ChIP-seq library preparation
Diagenode now offers a unique system that incorporates automation and a ligation-free protocol for chromatin immunoprecipitation coupled with library preparation for high-throughput sequencing (ChIP-seq), ChIPmentation. ChIPmentation is based on tagmentation which enables the integration of the library preparation during the ChIP itself using transposase and sequencing-compatible adaptors. Unlike standard library preparation techniques that require multi-step ligation, ChIPmentation incorporates a much easier and shorter protocol with high efficiency for low input samples. The new ChIPmentation system is available only on the IP-Star Compact Automated System ensuring the highest reproducibility for challenging samples of limited quantities.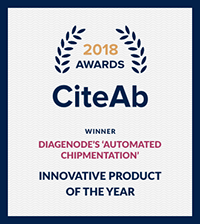 Benefits of the ChIPmentation system for optimal ChIP-seq
Automate on the IP-Star® to support standardization and reproducibility
Save one full day from standard protocols in generating ChIP-seq libraries
Enjoy an easier protocol
Benefit from the elimination of sequencing adaptor dimers
Ensure high quality data on low cell numbers and rare cell types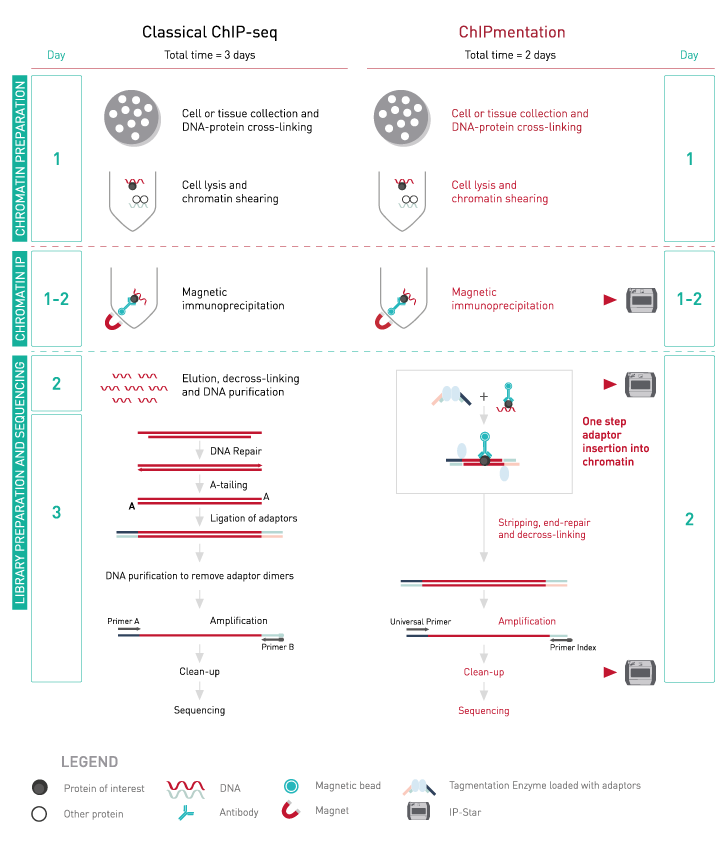 In traditional ChIP-seq library preparation, the ligation of the adaptors is performed after chromatin immunoprecipitation, in three steps. In the Diagenode ChIPmentation workflow, not only are the adaptors directly incorporated during ChIP, but also the main steps are automated on the Diagenode IP-Star®. The combination of direct adaptor incorporation and automation allows for higher sensitivity from low cell numbers and reproducibility of results.