The pattern of DNA modification is critical for genome stability and controlling gene expression in the cell. Diagenode offers highly validated antibodies against different proteins involved in DNA modifications allowing the study of all steps and intermediates in the DNA methylation/demethylation pathway: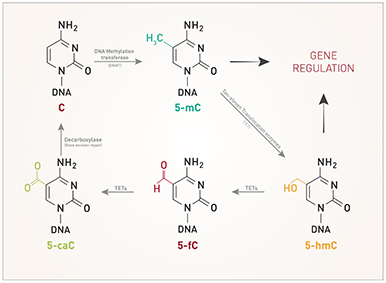 Diagenode is the exclusive worldwide source of genuine 5-methylcytosine monoclonal antibody (clone 33D3)!
Check out the list below to see all proposed antibodies for DNA modifications.
Check out the related list of antibodies: Chromatin associated proteins
Diagenode's highly validated antibodies:
Highly sensitive and specific
Cost-effective (requires less antibody per reaction)
Batch-specific data is available on the website
Expert technical support
Sample sizes available
100% satisfaction guarantee