IPure after ChIP



Figure 1. Chromatin Immunoprecipitation has been performed using chromatin from HeLa cells, the iDeal ChIP-seq kit for Transcription Factors (containing the IPure module for DNA purification) and the Diagenode ChIP-seq-grade HDAC1 (A), LSD1 (B) and p53 antibody (C). The IP'd DNA was subsequently analysed on an Illumina® Genome Analyzer. Library preparation, cluster generation and sequencing were performed according to the manufacturer's instructions. This figure shows the peak distribution in regions of chromosome 3 (A), chromosome 12 (B) and chromosome 6 (C) respectively.
IPure after CUT&Tag
Successful CUT&Tag results showing a low background with high region-specific enrichment has been generated using 50.000 of K562 cells, 1 µg of H3K4me3 or H3K27me3 antibody (Diagenode, C15410003 or C15410069, respectively) and proteinA-Tn5 (1:250) (Diagenode, C01070001). 1 µg of IgG (C15410206) was used as negative control. Samples were purified using the IPure kit v2 or phenol-chloroform purification. The below figures present the comparison of two purification methods.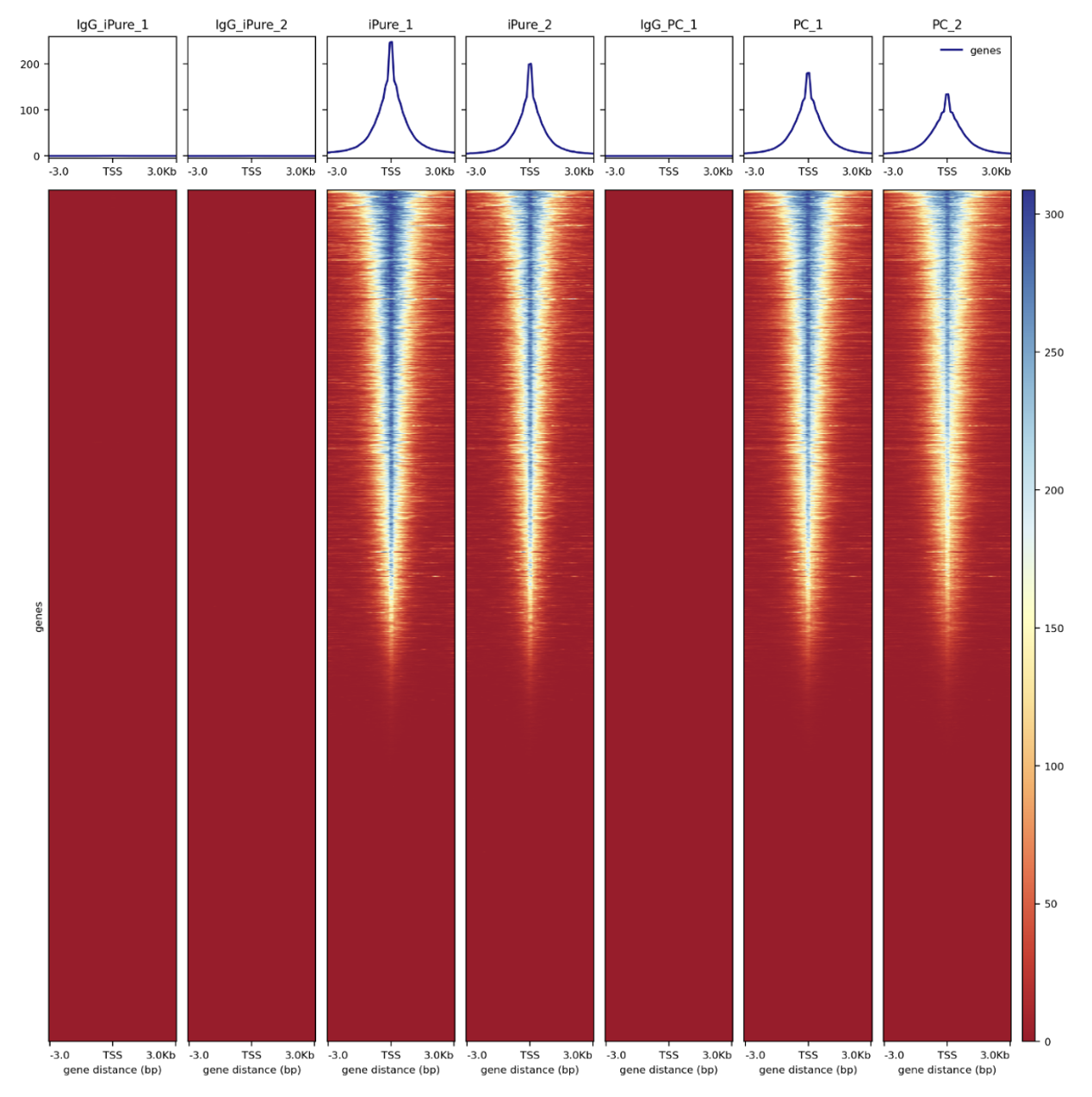 Figure 2. Heatmap 3kb upstream and downstream of the TSS for H3K4me3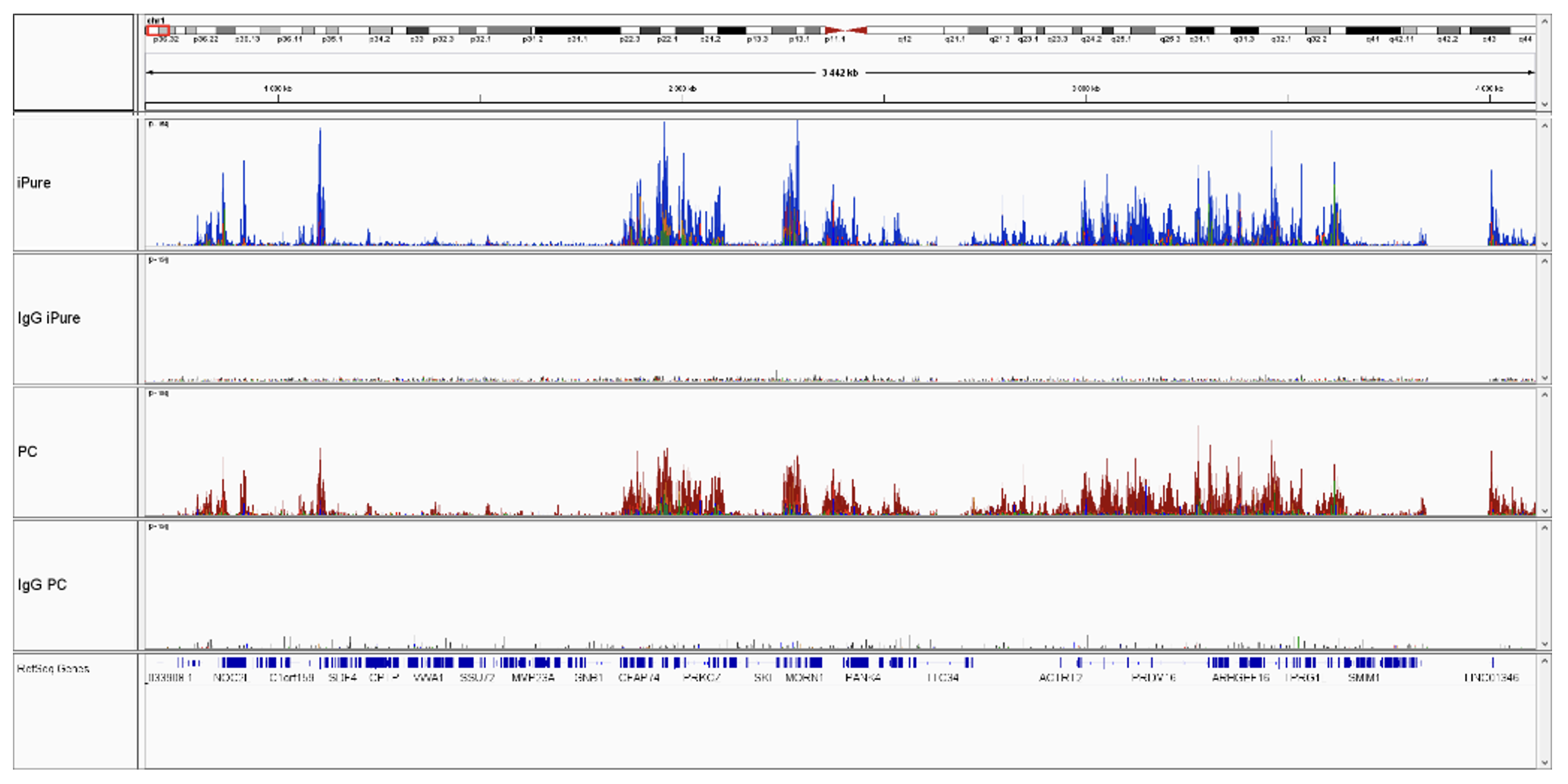 Figure 3. Integrative genomics viewer (IGV) visualization of CUT&Tag experiments using Diagenode's pA-Tn5 transposase (Cat. No. C01070002), H3K27me3 antibody (Cat. No. C15410069) and IPure kit v2 vs phenol chloroform purification (PC).
IPure after MeDIP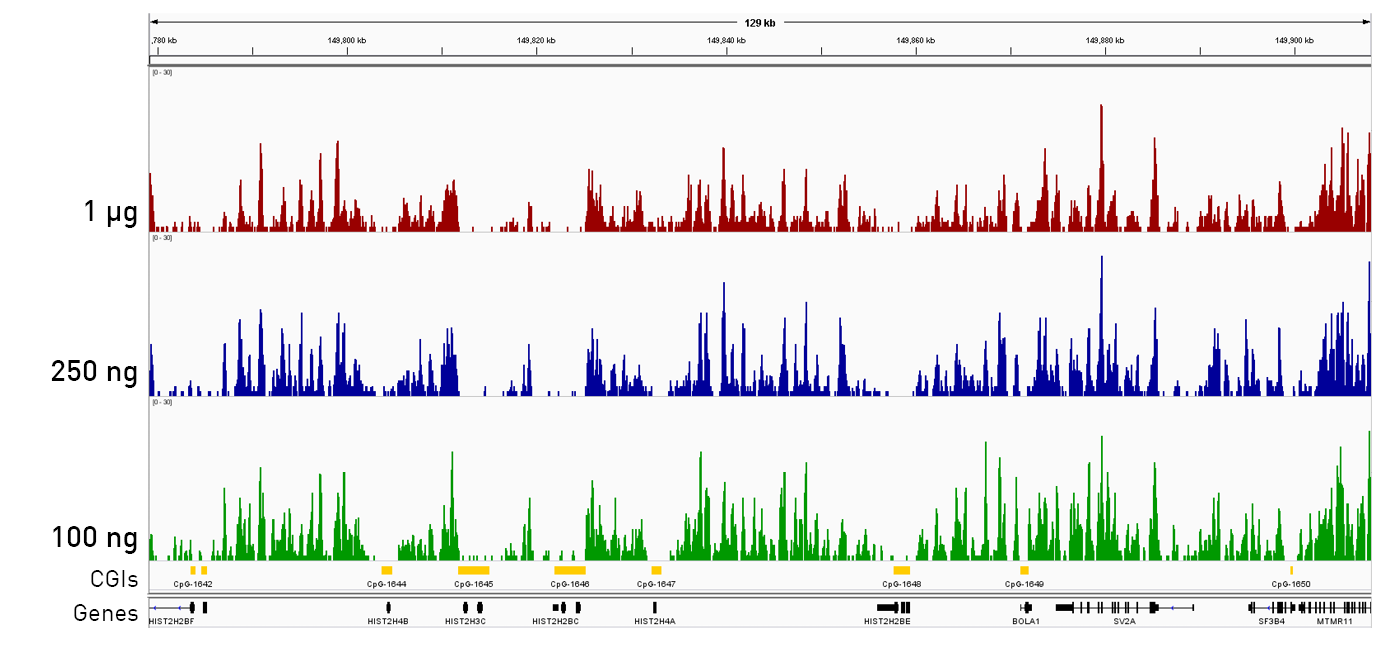 Figure 4. Consistent coverage and methylation detection from different starting amounts of DNA with the Diagenode MagMeDIP-seq Package (including the Ipure kit for DNA purification). Samples containing decreasing starting amounts of DNA (from the top down: 1000 ng (red), 250 ng (blue), 100 ng (green)) originating from human blood were prepared, revealing a consistent coverage profile for the three different starting amounts, which enables reproducible methylation detection. The CpG islands (CGIs) (marked by yellow boxes in the bottom track) are predominantly unmethylated in the human genome, and as expected, we see a depletion of reads at and around CGIs.