エピジェネティクス・DNAメチル化
バイサルファイト処理
Bisulfite modification of DNA is the most commonly used, "
gold standard
" method for DNA methylation studies providing
single nucleotide resolution
. T
his technology is based on the chemical conversion of unmethylated cytosine to uracil. Methylated cytosines are protected from this conversion allowing to determine DNA methylation at the singe nucleotide level.
Various analyses can be performed on the altered sequence to retrieve this information: bisulfite sequencing, pyrosequencing, methylation-specific PCR, high resolution melting curve analysis, microarray-based approaches, and next-generation sequencing.
How it works
Treatment of DNA with bisulfite converts cytosine residues to uracil, but leaves 5-methylcytosine residues unaffected (see Figure 1).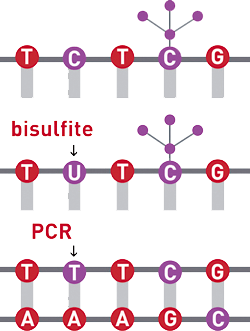 Figure 1: Overview of bisulfite conversion of DNA
バイサルファイト処理サービスの推奨・関連製品
Cat. No.
Product
Format
Price

C02030030

Premium Bisulfite kit
Diagenode's Premium Bisulfite Kit rapidly converts DNA through bisulfite treatment. Our conversion reagent is added directly to DNA, requires no intermediate...
50 rxns
$225.00

C02030032

Premium Reduced Representation Bisulfite Sequencing (RRBS) kit
Reduced Representation Bisulfite Sequencing (RRBS)は単一ヌクレオチドレベルで、全ゲノムバイサルファイトシーケンシングに関連するDNAメチル化を効率的また、低コストで分析する非常に有効的な方法です。 制限MspI酵素(CCGG標的部位)およびサイズ選択を用いてゲノム...
24 rxns

C02030033

Premium Reduced Representation Bisulfite Sequencing (RRBS) Kit
Reduced Representation Bisulfite Sequencing (RRBS)は単一ヌクレオチドレベルで、全ゲノムバイサルファイトシーケンシングに関連するDNAメチル化を効率的また、低コストで分析する非常に有効的な方法です。 制限MspI酵素(CCGG標的部位)およびサイズ選択を用いてゲノム...
96 rxns

C02030036

Premium RRBS kit V2
(Coming soon) Reduced Representation Bisulfite Sequencing (RRBS) offers a cost-effective, targeted solution to perform genome-scale DNA methylation analysis...
24 rxns
$1,525.00

C02030037

Premium RRBS kit V2 x96
RRBS for low DNA amounts and accurate analysis
Reduced Representation Bisulfite Sequencing (RRBS) offers a cost-effective, focused solution to perform genome-scale DNA methylation analysis at the s...
96 rxns
$3,550.00

C02030031

Auto Premium Bisulfite kit
Diagenode's Premium Bisulfite Kit rapidly converts DNA through bisulfite treatment. Our conversion reagent is added directly to DNA, requires no intermediate...
40 rxns
$225.00

C02030035

Bisulfite conversion reagent for RRBS
This reagent is compatible with the Premium RRBS Kit and provides reagents for additional bisulfite conversion reactions. Reduced Representation Bisulfite S...
8 rxns
$115.00

C02040019

DNA methylation control package V2
The DNA methylation control package V2 includes one methylated and one unmethylated spike-in controls that can be added directly to the DNA sample of interes...
48 rxns
$260.00

C02030040

Premium Methyl UMI-UDI Adapters - Set A
(Coming soon)Premium Methyl UMI-UDI Adapters - Set A includes methylated full-length adapters with 24 unique dual indexes (UDI) and ...
24 rxns
$240.00

C02030041

Premium Methyl UMI-UDI Adapters - Set B
(Coming soon)Premium Methyl UMI-UDI Adapters - Set A includes methylated full-length adapters with 24 unique dual indexes (UDI) and ...
24 rxns
$240.00