Highly optimized protocol for chromatin preparation prior to ChIP on histones SDS concentration optimized for the workflow for histones
Validated for cells and tissue
Preserves the epitopes
Validated with the Bioruptor ultrasonicator
Quality of chromatin sample confirmed by ChIP-seq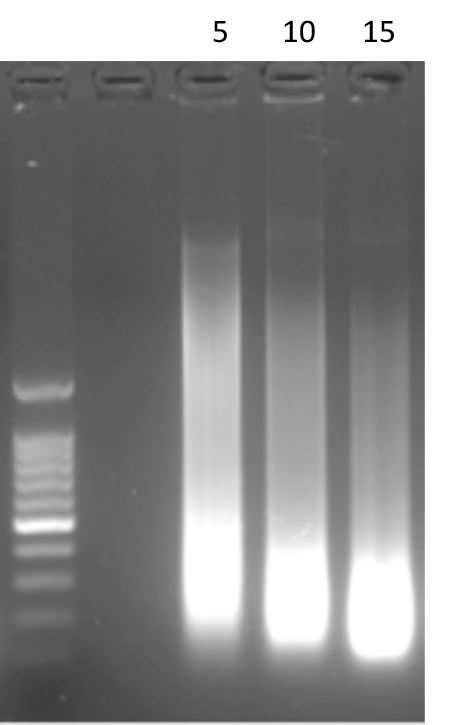 Figure 1. Optimal chromatin shearing profile
HeLa cells were fixed with formaldehyde for 8 min and chromatin was prepared according to Diagenode's Chromatin EasyShear Kit – Ultra Low SDS (Cat. No. C01020010). Samples were sonicated for 5-10-15 cycles of 30" ON/30" OFF as indicated with Bioruptor Pico using 1.5 ml Bioruptor microtubes with caps (Cat. No. C30010016) followed by de-crosslinking and DNA purification. The fragment size was assessed using agarose gel electrophoresis. A 100 bp ladder was loaded as the size standard.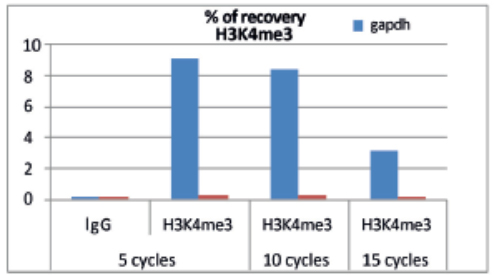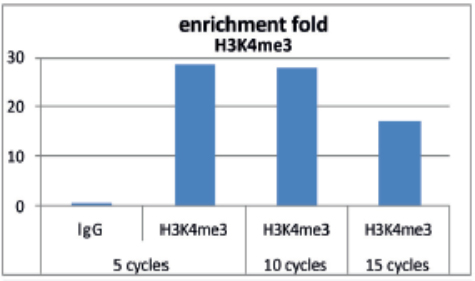 Figure 2. Chromatin precipitation
Sheared chromatin (obtained with the Chromatin EasyShear Kit – Ultra Low SDS) has been used for immunoprecipitation with H3K4me3 and IgG (negative control) antibodies. Quantitative PCR was performed with positive (GAPDH) and negative (TSH2B) control regions. The Figure 2 shows the recovery expressed as % of input (the relative amount of immunoprecipitated DNA compared to input DNA (panel A) and as enrichment fold of positive locus over negative (panel B).