>>> Click for Diagenode's approach to COVID-19
We are proud to offer the first antibodies specifically recognizing the Cpf1 nuclease, described as a potential candidate for genome editing in mammalian cells.
Raised against the Cpf1 nuclease from Acidaminococcus sp.
Ideal for Western blot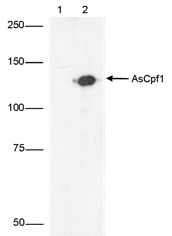 Western blot was performed on protein extracts from HEK293 cells using the Diagenode antibody against AsCRISPR/Cpf1 (C15310262), diluted 1:5,000 in PBS-T containing 3% NFDM. The marker is shown on the left, the position of the Cpf1 protein is indicated on the right. Lane 1 shows the Western blot analysis with the pre-immune serum, used as a negative control.
Raised against the Cpf1 nuclease from Lachnospiraceae bacterium
Validated in Western blot, immunoprecipitation and immunofluorescence

Transiently transfected HEK293 cells expressing HA-tagged LbCRISPR/Cpf1 were fixed with 3.7% formaldehyde, permeabilized in 0.5% Triton-X-100 and blocked in PBS containing 2% BSA for 2 hours at RT. The cells were stained with the LbCRISPR/Cpf1 antibody (Cat. No. C15310263) diluted 1:500 in blocking solution at 4°C o/n followed by incubation with an anti-rabbit secondary antibody coupled to DyLight594 for 1 h at RT (left figure). Nuclei were counter-stained with Hoechst 33342 (right). The middle figure shows IF with an anti-HA antibody.