1 tube, 2 hours, 3 steps protocol
Input: 50 pg – 50 ng
Reduce potential bias - few PCR amplification cycles needed
High sensitivity ChIP-seq - low PCR duplication rate
Great multiplexing flexibility with 24 dual indexes (8 nt)
Validated with the IP-Star® Automated Platform
How it works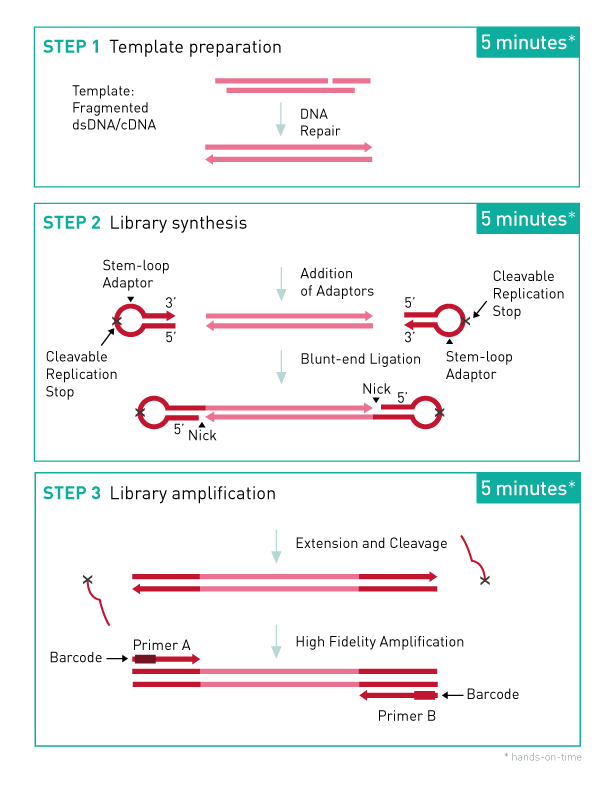 Microplex workflow - protocol with dual indexes
An input of 50 pg to 50 ng of fragmented dsDNA is converted into sequencing-ready libraries for Illumina® NGS platforms using a fast and simple 3-step protocol
Read more about MicroPlex workflow

Step 1. Template Preparation provides efficient repair of the fragmented double-stranded DNA input.

In this step, the DNA is repaired and yields molecules with blunt ends.

Step 2. Library Synthesis. enables ligation of MicroPlex patented stem- loop adapters.

In the next step, stem-loop adaptors with blocked 5' ends are ligated with high efficiency to the 5' end of the genomic DNA, leaving a nick at the 3' end. The adaptors cannot ligate to each other and do not have single- strand tails, both of which contribute to non-specific background found with many other NGS preparations.

Step 3. Library Amplification enables extension of the template, cleavage of the stem-loop adaptors, and amplification of the library. Illumina- compatible indexes are also introduced using a high-fidelity, highly- processive, low-bias DNA polymerase.

In the final step, the 3' ends of the genomic DNA are extended to complete library synthesis and Illumina-compatible indexes are added through a high-fidelity amplification. Any remaining free adaptors are destroyed. Hands-on time and the risk of contamination are minimized by using a single tube and eliminating intermediate purifications.

Obtained libraries are purified, quantified and sized. The libraries pooling can be performed as well before sequencing.