What is the pre-release program?
The Diagenode pre-release program allows users to try out a pre-release of the kit and give feedback on their experience. We want to highlight user experience and improve the product accordingly. Any suggestions and comments will help us fine tune our solution. The final version of the kit has not been released to the market by Diagenode yet, so please be aware that the protocol provides users with only very few guidelines, and the solution may not generate the expected results for your particular application. Therefore, we would suggest to test on few samples prior using critical samples.
How to get access to a pre-release of the kit:
You can get access to a pre-release of the kit by ordering through the normal ordering process.
How to send feedback to Diagenode: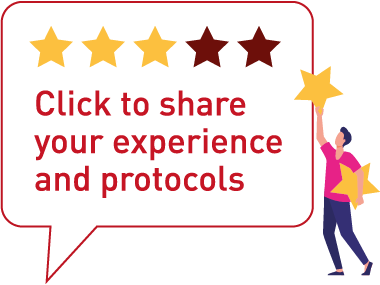 Who is eligible?
The pre-release program is open to anyone who has access to a Megaruptor 3. The DNAFluid+ has been especially designed for use with the Megaruptor® 3 (B06010003).
Are there any fees to join the program?
There are no specific fees to join the pre-release program. The only fees are the cost of the kit, the minimum price to get the consumables.
Will I be paid to test the kit?
This program is voluntary. You will not receive any compensation for your participation. However, we will ensure the users who participated in the feedback to be exempt of any price increase of the DNAFluid+ Kit until 1 year upon official release of the kit.
If you need assistance:
For any further concerns, please, contact us at Diagenode Care: https://www.diagenode.com/en/pages/support