Superior coverage – 4 million CpGs
High throughput - 96 samples processed in one experiment
Cost-efficient – Multiplex up to 6 samples/sequencing lane
Validated with FFPE, cancer, and low-input samples
High efficiency and minimal bias - Low DNA degradation and reduced amplification
Complete kit – Bisulfite conversion reagents, MspI enzyme, library preparation reagents including barcodes, and spike-in controls
Already tested on various species – human, mouse, rat, pig, cow, dog, zebrafish, Daphnia and more

cichlid fish (Astatotilapia calliptera), mossy frog, yellow-bellied slider, dice snake, zebra finch, humboldt penguin, leaf bird, buzzard, vulturine guinea fowe, parma kangaroo, cheetah, mouflon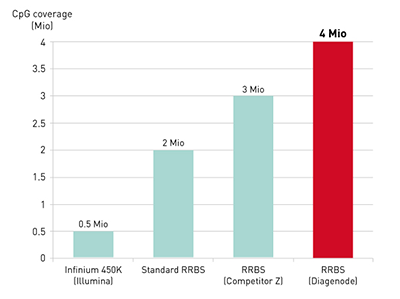 Superior coverage
Comparison of CpG coverage between competing technologies.
They love it!
The new Diagenode Premium RRBS Kit makes it easy to use RRBS cost-effectively and with high throughput, using early sample pooling and multiplex sequencing. Most importantly, the method provides an improved coverage of up to 4 million CpGs for the human genome. We successfully used this protocol on more than 1,000 samples comprising of six different species, various cancers, FFPE and lowinput samples.
Paul Datlinger and Christoph Bock, CeMM Research Center for Molecular Medicine of the Austrian Academy of Sciences, Vienna, Austria

Accurate determination of DNA methylation level
Excellent results were obtained using Diagenode's Premium RRBS kit: almost 90% alignment rate, 4.1 million CpGs covered and bisulfite conversion rates around 99.5% for all samples. DNA methylation percentages in the region of IGF2 obtained with the Diagenode's Premium RRBS Kit. Two human cell lines were analyzed: Gm12878 and MCF7. The MCF7 cell line was studied in duplicates. Each peak represents the DNA methylation percentage at one CpG. The methylated CpGs are shown in red and the unmethylated CpGs in grey.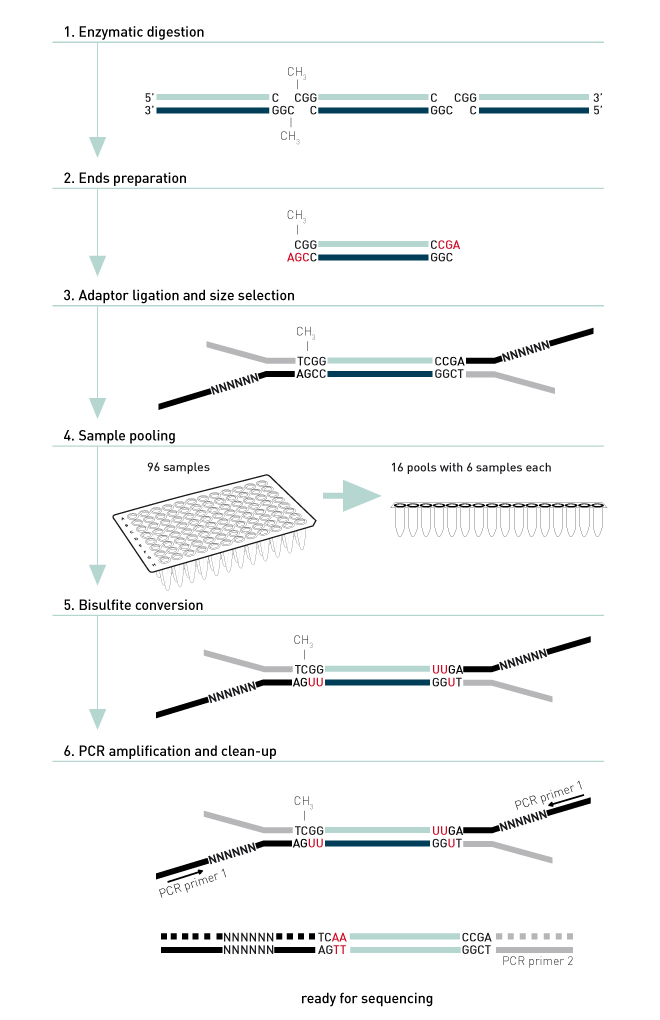 How it works
By cutting the genome using the
restriction enzyme MspI
(CCGG target sites) followed by size selection, DNA is enriched to represent
CpG-rich genomic regions
(including CpG islands, CpG island shores, enhancers, and other gene-regulatory elements), which are particularly relevant for epigenetic regulation. Similar to exome-sequencing for mutation discovery, the RRBS protocol enriches for some of the most interesting target regions and thereby achieves a reduction in sequencing cost of a factor of 10-20 compared to whole genome bisulfite sequencing.
Premium RRBS Kit

Illumina® RRBS protocol

DNA input
100 ng
2-5 µg
Multiplexing
Pooling of 6 samples (one HiSeq lane)
no guidelines
Bisulfite conversion
One bisulfite reaction per pool (6 samples)
One bisulfite reaction per sample
# purification steps
2
7
Key features
low input - cost-effective - optimized for high-throughput - complete kit
high input - not optimized for high-throughput - reagents from different providers