Validated with the IP-Star® Automated Platform
Multiplexing capacity of up to 24 samples
Only 3 hours from start to finish
Low GC bias with high fidelity amplification
Ideal for use with our optimized ChIP-seq kits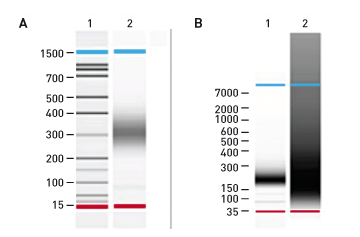 High library yields
5 ng of input DNA were used for each library prep. A. E. coli genomic DNA libraries. 1: Ladder; 2: Library prepared using iDeal Library Preparation™ Kit.
B. FFPE sample. Human lung tumor genomic DNA 1: Library prepared using the iDeal Library Preparation™ Kit). 2: Input DNA (degraded FFPE genomic DNA).
How it works