>>> Click for Diagenode's approach to COVID-19
Unravel the hidden mysteries of histones, nucleosomes and chromatin with our new epigenetic tools!


Diagenode now offers a broad range of tools to study nucleosomes and histones, the structural and functional units of chromatin. We provide solutions for any architectural level of regulation with the best quality recombinant human histones, native or recombinant nucleosomes or chromatin assembly kit.
These new tools are the easiest, quickest and most effective way to study in vitro histone post-translational modifications, nucleosome variants, nucleosome distribution and general chromatin structure. In addition, they allow you to perform enzyme activity assays or drug screening.
Recombinant human histones
Excellent ultra-pure human recombinant histone produced in E. coli
Suitable for in vitro chromatin assembly
Ideal substrate for analysis of histone post-translational modifications including acetylation, methylation, ubiquitination, sumoylation and phosphorylation
Optimal for inhibitor and drug screening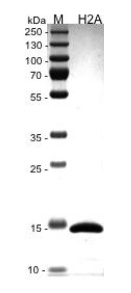 SDS-PAGE gel of recombinant Histone H2A (Lane 2). Lane 1, protein molecular weight marker.
Native or recombinant nucleosomes
Excellent ultra-pure recombinant nucleosome assembled in vitro or native nucleosome purified from Hela cell nuclei
Save time and effort by providing pre-assembled nucleosomes
Suitable for in vitro chromatin assembly
Ideal substrate to study structural changes induced by the histones variants and histones mutations
Optimal for enzymatic methyltransferase assay and small molecule inhibitor screening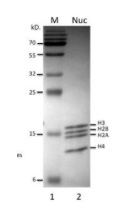 SDS-PAGE gel of human native nucleosomes.
Chromatin Assembly Kit
The Chromatin Assembly Kit enables a method to mimic the nucleosome environment and closely model the chromatin architecture.
Complete kit including nucleosomes
Quick assembly in less than 6 hours
Optimal for downstream applications such in vitro ChIP, histone modification or enzymatic screening