Higher physiological relevance with 3D cell culture plates
ChIP-seq results from 3D cell culture showed equivalent reproducibility to 2D cell culture for H3K4me3 and H3K27ac. However, 3D cell culture is advantageous over 2D cell culture with:
Better enrichment
Higher physiological relevance from spheroid cells
Easy to use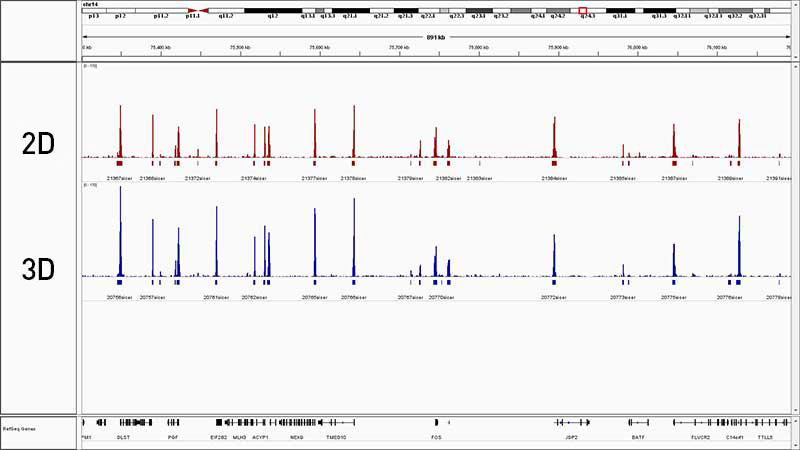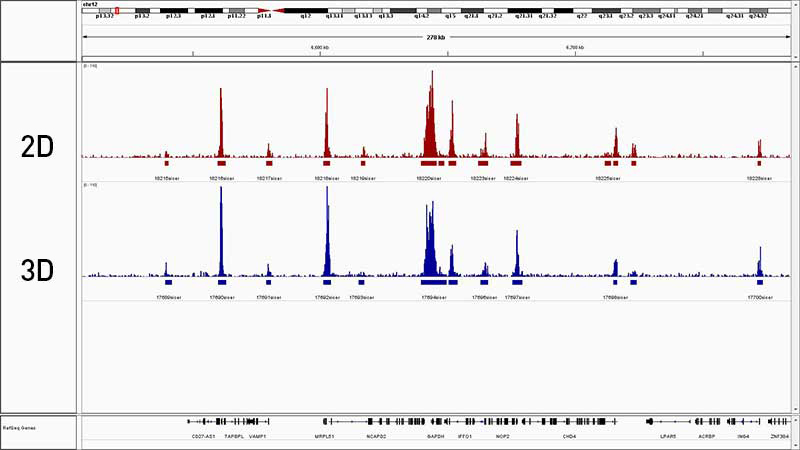 ChIP-Seq experiment performed on HepG2 cells cultivated in adherent condition with traditional 2D culture plates and in spheroids with our new 3D micro pattern culture plates, using H3K4me3 and H3K27ac targets. The 2D and 3D figures are nearly identical with equivalent peaks and read numbers, highlighting comparability to standard culture. Results from 3D cell culture, however, provide additional benefits such as stronger enrichment and higher physiological relevance from spheroid cells.
3D cell culture for in vivo epigenetic experiments
Diagenode offers a revolutionary solution to enhance your epigenetics research using cultured cells. Our new 3D micro pattern cell culture plates give physiological relevance to epigenetic experiments. Unlike 2D monolayer culture, 3D culture plates enable spheroid culture that favors natural cell-cell interaction and mimics the in vivo environment.
These ready-to-use and standardized plates are optimal for reproducible cell-based ChIP-seq assays as well as microscopic imaging, toxicology assays, and drug development.
2D

monolayer Cell Culture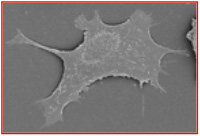 3D

micro pattern Cell Culture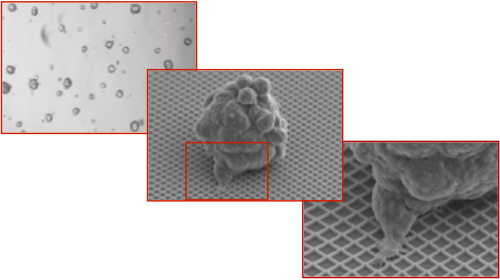 3D micro pattern cell culture plates
Physiologically and morphologically relevant

:

Adherent cells form more natural spheroids and allow measure of cell-to-cell interactions, not cell-to plastic

Easy and ready-to-use:

No specific expertise required

Optimal performance:

High reproducibility, cell growth and viability

Diverse applications

: ChIP-seq experiments, drug and inhibitor screening, toxicity assays, co-culture, cell differentiation, and more

Automatable :

Amenable for high-throughput and standard automation
Cell culture methods benchmarking
Cell activity

High throughput screening

Technology

Spheroid formation

Long term culture

Reproducibility

Live imaging

2D
Low binding affinity

-

-

+/-

-

3D
3D Diagenode micro pattern culture plate

+

+

+

+
Small insight into cancerous and other tested cell lines
| Disease | Cell line | ATCC collection reference | 2D Monolayer 100x | 3D 40x | 3D 100x |
| --- | --- | --- | --- | --- | --- |
| Hepatoma carcinoma | HuH-1 | TCP-1011 | | | |
| Pancreas Adeno-carcinoma | Capan-2 | TB-80 | | | |
| Prostate carcinoma | DU145 | HTB-81 | | | |
| Colorectal carcinoma | HCT116 | CCL-247 | | | |
| Breast carcinoma | BT474 | HTB-20 | | | |
| Lung carcinoma | NCI-H1650 | CRL-5800 | | | |
| Glioblastoma | U251 | | | | |
| Mouse fibroblast | 3T3-L1 | CL-173 | | | |
Example of downstream application data
Chromatin Shearing
HepG cells cultivated on our new 3D micro pattern cell culture plates. Chromatin was sheared according to iDeal ChIP-seq kit procedure.
H3K4me Western blot performed on chromatin isolated from 3D micro pattern culture of HepG cells.
WCL = whole cell lysate of HeLa cells.
3D cell culture optimizes the ability for cell differentiation compared to 2D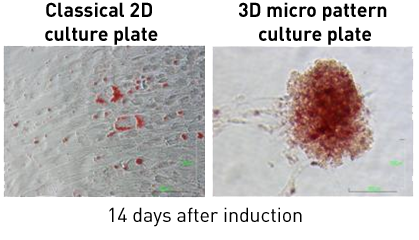 Human mesenchymal UET-13 stem cells cultivated on 3D micro pattern culture plate shows increased ability to differentiate to adipocyte compared with 2D. Lipid-droplet stained by Oil red O.
Marker gene expressions showed higher efficiency of differentiation into mature adipocyte expressing Adiponectin, PPARγ and C/EBPα.
Miyagawa et al, Tissue Eng Part A. (2011)