Prior to next-generation sequencing, many NGS platforms require preparation of the DNA. Two major types of libraries are discussed, depending on the application: fragment libraries and mate-paired libraries.
Fragment libraries (for pair-end sequencing) - genomic DNA (gDNA) from a sample is randomly sheared (i.e. sonicated such as with the Bioruptor device) to a small size, typically just 1–5x the size of the sequencing platform's read length. Sequencing adaptors of known sequence are then linked to the ends of the end-repaired and A-tailed DNA fragments. This allows sequencing from a single end of each DNA fragment in the library. Additionally in barcoded libraries, specific indexes or barcodes are incorporated in order to multiplex sample preparation and sequencing. Once constructed, fragment libraries are amplified (depending on the NGS platform, the amplification method can vary) and sequenced.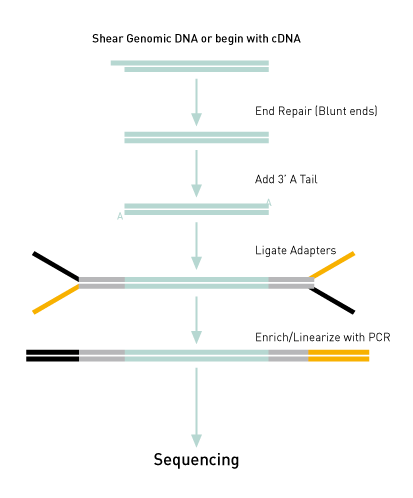 Mate-paired library - is constructed by first randomly shearing or fragmenting gDNA to a size of typically exceeding 1000 bp such as with a shearing device like the Megaruptor. This library is size-selected, e.g. 2–3 kb.
The fragments are circularized via ligation of an adapter, and non-circularized DNA fragments are removed. Next, circular DNA is fragmented, size-selected, end-repaired, A-tailed and ligated to pair-end sequencing adapters. This allows generation of a library of DNA fragments consisting of subfragments from the two ends of the original size-selected DNA library. Once constructed, libraries are amplified (depending on the NGS platform, the amplification method can vary) and sequenced. Mate-paired libraries provide information on single nucleotide substitutions as well as on genomic structural variations. Generation of long-insert paired-end DNA libraries for de novo sequencing, genome finishing and other applications is usually followed by so called mate-pair sequencing. (based on: Korbel et al., Science, 2007; Metzker, Nature, 2009; Morey et al., Molecular Genetics and Metabolism, 2013; van Dijk et al., Experimental Cell Research, 2014).
Diagenode offers a number of products for both fragment and mate pair library construction.
Fragment libraries
Mate-pair libraries