In recent years, advances in Next-Generation Sequencing (NGS) have revolutionized genomics and biology. This growth has fueled demands on upstream techniques for optimal sample preparation and genomic library construction. One of the most critical aspects of optimal library preparation is the quality of the DNA to be sequenced. The DNA must first be effectively and consistently sheared into the appropriate fragment size (depending on the sequencing platform) to enable sensitive and reliable NGS results. The Bioruptor® Pico and the Megaruptor® provide superior sample yields, fragment size, and consistency, which are essential for Next-Generation Sequencing workflows.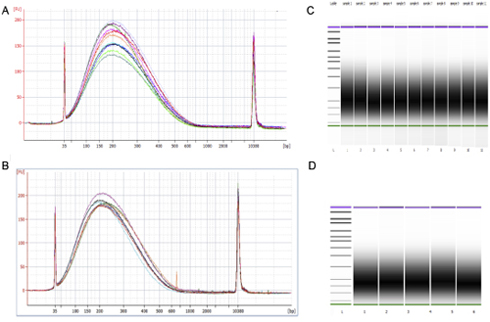 Programmable DNA size distribution and high reproducibility with Bioruptor® Pico using 0.65 (panel A) or 0.1 ml (panel B) microtubes. Panel A: 200 bp after 13 cycles (13 sec ON/OFF) using 100 µl volume. Average size: 204; CV%:1.89%). Panel B: 200 bp after 20 cycles (30 sec ON/OFF) using 10 µl volume. (Average size: 215 bp; CV%: 6.6%). Panel A & B: peak electropherogram view. Panel C & D: virtual gel view.

Reproducible and narrow DNA size distribution with Megaruptor® using short fragment size Hydropores Validation using two different DNA sources and two different methods of analysis. A: Shearing of lambda phage genomic DNA (20 ng/μl; 150 μl/sample) sheared at different speed settings and analyzed on 1% agarose gel. B: Bioanalyzer profiles of human genomic DNA (20 ng/μl; 150 μl/sample) sheared at different software settings of 2 and 5 kb. Three independent experiments were run for each setting. (Agilent DNA 12000 kit was used for separation and fragment sizing).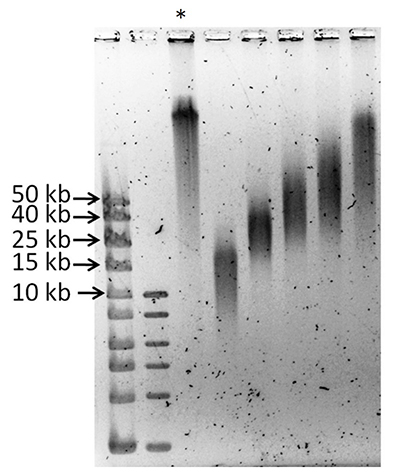 Demonstrated shearing to fragment sizes between 15 kb and 75 kb with Megaruptor® using long fragment size Hydropores. Image shows DNA size distribution of human genomic DNA sheared with long fragment Hydropores. DNA was analyzed by pulsed field gel electrophoresis (PFGE) in 1% agarose gel and a mean size of smears was estimated using Image Lab 4.1 software.
* indicates unsheared DNA